LED UV Nail Polish Lamp Dryer - professional nail dryer lamp
Get a professional-looking manicure using our UV Nail Polish Lamp Dryer.
One of the most annoying things is when you've spent time and patience doing your nails, only for them not to be properly dried and ruining all your work. Now, at home, you can have a proper, professional-grade nail drying lamp all to yourself.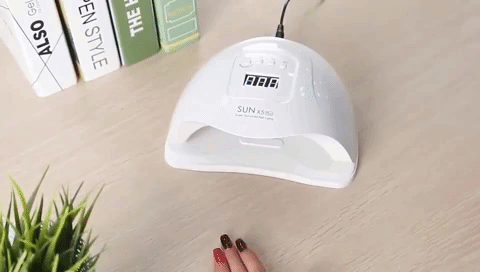 This UV LED Lamp Nail Dryer is great for any gel manicure you get done and ensures they'll last. With just 99 seconds (or less) of use, you can leave confidently knowing that your nails are dry and ready to go. No chipping or smudging! Get glowing and glossy nails every time. The hybrid UV and LED lights are safe and effective and the display on top gives you a countdown. With 4 different time settings, you'll get a comprehensive job no matter what type of nail treatment.


Professional Nail Polish Lamp Dryer: Our Pro UV LED Curing Lamp can be used for drying most types of nail gel polish and extensions including hard gels, UV/LED gels, CND Shellac, OPI, sculpture, guilders and builders
Digital Time Display: LCD screen displays nail-drying time and it is equipped with a time memory function that you can set for 10s, 30,s 60s or 99s (Low Heat Mode for sensitive nails).
Smart Sensor: Our professional fingernail and toenail LED nail lamp has infra-red sensors that automatically turn on or off the gel nail light when you slide your hand or foot in and out.

Super Spacious (Hands & Feet): It is large enough to fit both hands or both feet inside at the same time! Our UV manicure light can dry nails evenly and speeds up your at-home nail curing!
High Powered & Energy Saving: Conserve electricity and avoid the cost of replacing light bulbs! Our 72W heat lamp is equipped with 36 LED bulbs that can last up to 50,000 hours!
UV/LED Hybrid Lamp: The curing lamp uses hybrid technology and is perfect for any nail gel polish or extension job. Get an even and quick dry each time!

Smart Technology: With internal infrared sensors, this manicure/pedicure dryer automatically turns itself on/off whenever a hand or foot is inserted.

More space for your hands:
It is large enough to fit both hands or both feet inside at the same time! Our LED UV Nail Polish Lamp Dryer can dry nails evenly and speeds up your at-home nail curing!
Safety Conscious:
No risk of damaging and darkening skin from exposure to the light. Your eyes aren't at risk either.
Home And Salon Suitable:
Get salon-quality drying at home with this LED UV Nail Polish Lamp Dryer. Suitable for salons too.
Even Drying:
With 36 dual light LED light beads in the drying space, light is spread evenly with no dead zones or corners. Your whole nail is dried each time.
Timer Settings:
With the timer, you get an accurate drying session always. No 'over baking' or wet nails anymore.
Specification:
Materials: abs
Rated voltage (v): 100 - 240
Output voltage: 12v
Size:22.5*19.5*9.5cm
LED:36 UV led
4 mode:10 / 30 / 60 / 99s(low heat)
Function type:9 powerful functions
Plug: US Plug

Package Include:
1 X Nail Lamp
1 X Power Adapter
1 X Manual