60W/90W Solar Street High Brightness Light
Our 60W/90W LED solar street lights offer a nice easy wire free to solution to provide outdoor lighting. Each solar street light is built with durable super-bright LED's. Many of our customers use these lights for commercial and residential buildings, farms, parking lots, city parks, tennis courts, playgrounds, driveways, basketball courts, pools, patios and more. Each light is waterproof and sealed from outdoor elements.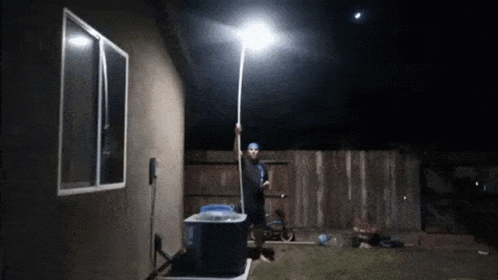 Its innovative smart lighting profiles offer true Dusk to Dawn all night lighting capability. It offers flexibility for critical weather and variations of geographic locations and it is able to automatically manage the critical status of the battery. An All In One Design!



✔ Weatherproof materials: Weather-resistant, rustproof, heavy-duty resin frame provides extra reliability and durability, especially in humid climates and coastal communities. You don't have to worry about rain damage and sun exposure. These LED Solar Lights can also get charged with ice/snow in the Solar Panel.
✔ No electricity bill & Wireless: Solar panels convert solar energy into electricity.NO wires, easy to install. Perfect for an unlit driveway, paths, roof, walkway, garage, backyards, farms, countryside road, patio, barn, court, dark place.
✔ Motion & Light sensor: The dusk to dawn security light charging during the day and light up at night automatically. Constantly light, motion sensor, brightness all can be customized by remote control.
✔ Waterproof & Durable: The packing lots light is made of durable ABS material and can withstand all kinds of outside bad weather conditions.
✔ Multiple choice: 60 watts or 90 watts.
✔ Easy To Install.
✔ These Solar Lights last up to 13 hours during the night with only 2 hours of direct sunlight on the solar panel
✔ Motion Sensing Mode (dims low light level until motion detected)
✔ Remote Controlled (to change settings)
✔ Timer (set to stay on for time intervals of 2hrs, 4hrs, 6hrs)
✔ Auto Mode turns on in the evening (stays on all night) and off in the morning.



Specifications:
• Shell Material: ABS
• Induction Distance: 5-10m
• Color Temperature: 6000K ~ 6200K (Cool White)
• Waterproof Rate: IP67
• Mode: Light Control and Radar Built-In Sensor
• Sensing Angle: 120 Degrees
• Recommended Installation Height: 3-5m
• Working Temperature: -13℉ to 149℉
• Color: Black
• Solar Panel: Polycrystalline Solar Panel 6V/7W
• LED Quantity: 120/180 2835SMD; Power: 60W/90W
• Power Supply: Built-in 12000mAh Lithium-ion Battery
• Dimensions: (23.4 x 7.7 x 3.9)" / (59.5 x 19.5 x 10)cm (L x W x H)
• Weight: 4.9lbs / 2.21kg
• Application: Outdoor wall or pole in Plaza, Park, Garden, Courtyard, Street, Walkway, Pathway, Campus, Farm, Perimeter Security etc.
• Charge Time: About 6-8H with full sunshine
• Work Time : About 13H

Package include:
1 x Street Light (Lamp Pole is NOT INCLUDED)
1 x Remote Control